Industrial Brakes & Clutches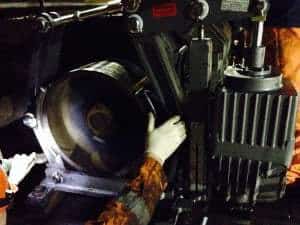 Kor-Pak Corporation is an industrial brake and clutch specialist.  Not only do we offer a plethora of brakes and clutches in terms of size, torque, styles, and applications, but we also design custom brakes and clutches, offer design and application engineering, and have a robust service and aftermarket segment that will enable you to recondition your existing equipment and source OEM and aftermarket parts at competitive prices.  No matter what the application, Kor-Pak can help you find what you need and our customer-focused and hands-on approach will ensure that you are always receiving the support and attention you need to keep your equipment running at optimal efficiency.
As you navigate the website you will find many different brakes and clutches offered by Kor-Pak, and if you cannot find what you're looking for please contact a Kor-Pak representative today to help you.
Industrial DRUM Brakes
Kor-Pak can supply various styles of drum/shoe brakes that conform either AISE or DIN standards. Our drum brakes are fail-safe, spring-set and electro-hydraulic thruster or magnetically released. We can also provide all spare products and accompanying items such as brake drums, shoes, thrusters, coils (both shunt and series wound), controllers, and spare parts.
DISC Brakes
offers a diverse portfolio of industrial disc brakes that cater to a wide variety of applications. Our wide range of caliper disc brakes are offered as either hydraulic or air applied/spring released, or spring applied and hydraulic, air, or magnetically released. Our robust caliper disc brakes are used ubiquitously and can be found in numerous unique applications and they can furnish extremely high torque requirements and concurrently withstand the harshest of environmental conditions.
STORM / PARKING BRAKES
Our innovative and diverse selection of storm and rail brakes have helped industries persevere throughout harsh and demanding environments. Whether it be intense winds, seismic activity, or bracing your container when incurring heavy loads, Kor-Pak's Storm Brakes will enable you to overcome these obstacles and achieve your industry-specific goals. Kor-Pak offers several options of Storm Brakes including: rail clamps, wheel grippers, rail grippers, and corresponding accessories. These are offered with various mounting options such as sill-beam, flange, or truck mounted and our rail clamps can be furnished with integral power units.
For more information on industrial brake wheels, click here
Related Literature:
Showing 1–10 of 120 results