Description
Stromag Brakes
Stromag braking systems: hydraulically, pneumatically, and electrically actuated are highly developed and reliable components for modern and energy efficient drives. They ensure driving and hoisting safety, are protected against the most adverse environmental effects in their respective applications, are provided with precisely tuned safety functions, and are characterized by low noise levels. In traveling drives, they keep construction machinery safely in place, and they retain rotary drives at the required position. Winches on cranes and ships are braked and retained in position even under the most difficult conditions.
Altra Motion purchased Stromag from GKN plc in 2016. While GKN Stromag is still in the minds of many, with the Altra Motion acquisition, Stromag will continue to produce the same great quality equipment the market has expected since 1939. Kor-Pak is proud to be a leading distributor of Stromag brake systems and components, providing our customers with reliable service as well as sales.
Stromag Electrical Spring-Applied Brakes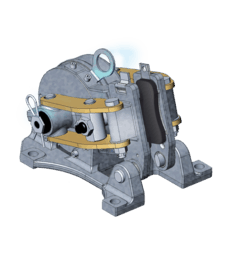 Spring applied brake NFF
Spring applied brake 4BZFM
Spring-applied brake BZFM V7
Pole-face friction brake MFK/MWU-B
Stromag Disc Brakes
Wind Turbine Generators
Rotowell LSS
CB 120
CB 90 Yaw Brakes
[threecol_one][/threecol_one] [threecol_one][/threecol_one] [threecol_one_last][/threecol_one_last]
BCHM and BCH (HSS)
Rotorlock
GKN Stromag Crane Brakes
Electromagnetic Brake Caliper
Features
High degree of protection (IP 54)
Low maintenance
Simple and fast replacement of high wear resistant brake linings
Unvaryingly large release path
Large wear reserves
High thermal capacity and good heat dissipation
Mechanical release through central release screw
Function and application
Disc brakes functioning as operating or emergency stop brakes are used to brake safely loads on hoists, trolleys, and winches. Both the electromagnetic and hydraulic versions present convincing advantages in the form of large and unvarying braking torques, little maintenance and storage work, low space requirements, and very short, stable engaging times.
In the event of a break in the kinematic chain (for molten or radioactive material), emergency stop brakes must engage and execute emergency lowering when faults occur in other braking systems and/or the lowering speed exceeds the rated value by greater than 10%.
Hydraulic Brake Caliper
Features
Active hydraulic brake for azimuth adjustments
Braking force FB = 0-210 kN
Setting the pressure adjusts the torque
(full or controlled braking torque)
Surface protection class C4-L standard ISO 12944-2 (excluding functional areas)
Option: surface protection C4-H or C5M-H
Standard ISO 12944-2
Option: VCI packaging
Screws and discs are not included in delivery.
Function and application
The brake calliper CB90A is characterised by its high braking effect and ease of maintenance. These advantages are the result of the following innovations (patent application submitted). The central web causes the braking force to be distributed over a total of four webs, thereby reducing considerably the load in the highly stressed area. As a consequence, higher braking forces can be generated.
Simple wear status query and easy replacement of the friction linings
GKN Stromag Brakes Literature