Rubber Parts

Kor-Pak possesses outstanding competencies to manufacture rubber parts and diaphragms for various industries and applications. Our capabilities include: custom rubber molding, rail maintenance equipment, custom rubber to metal bonding, natural and synthetic rubber (i.e. Neoprene), rubber extrusions (curing, splicing, cutting,endless vulcanizing), tubing, multi cavity and prototype, transit industry applications, Seals, Gaskets, end of car diaphragms, and numerous other parts.
Examples of Rubber Parts We Make:
Rail/Transit Applications: load leveling bushing, motor mounts, anchor rod pad, bolster end bumper, rubber sandwich (bolster stabilizer), lateral bumper
Seals for Locomotive Engines
Nitrile Gaskets
Custom Rubber Parts made per unique specifications
Reverse engineering capabilities to help clients reduce lead times and costs without compromising product integrity
Rubber Diaphragms
Kor-Pak specializes in making rubber diaphragm parts made to virtually any size, diameter, or length. We have successfully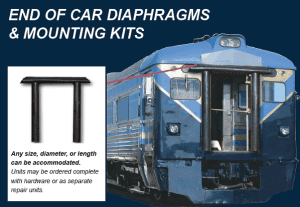 supplied end-of-car diaphragms for brand name rail companies. Kor-Pak performs value-added steps to benefit the customer which includes supplying accompanying bill of materials (i.e. stainless steel aluminum horizontal and vertical support bars as well as bottom face plate assembly) so the end user receives a finished good.
Related Information
Showing all 4 results