YAW Brakes
A full array of caliper solutions is available from Kor-Pak to meet the yaw braking force requirements of any size wind turbine / wind energy brakes needs. All brake models are robust, hydraulically activated, and direct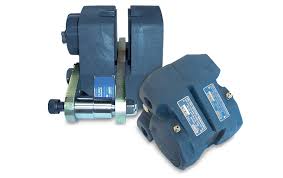 applied. Models with up to 40kN braking force, featuring two-bolt side mounting, are designed for light to medium-duty applications. We also have brake models featuring four-bolt center mounting, is ideal for use in medium sized turbines.  Our base mounted caliper is designed for larger, heavy-duty turbine applications.
All models of yaw brakes function as static holding brakes when the nacelle is positioned into the wind. Typically, Kor-Pak caliper brakes may act directly on the yaw ring or Matrix plate-type brakes are mounted on the non-driving end of the yaw motors.
Showing all 7 results
Stromag BCH85A – BCH76A Yaw B..

Stromag BCH85A – BCH76A Yaw Brakes

BCH Calipers are designed for easy maintenance. With fitting stops, the Stromag BCH line fitting pads can be replaced without dismounting the caliper. Designed for discs up to 30mm thick, they can be fitted with the Control of the pads Return system (CR) and a thermistor (T).