AC and DC Drives
Variable speed drives can reduce operating costs and downtime, allowing you to be more efficient and save energy. AC/DC drives provide a wide range of options for your application.
AC Drives
Kor-Pak offers a complete line of AC Variable Frequency Drives to bring optimal performance and operational efficiency to your AC Crane.  Kor-Pak can design and engineer drives tailor-made to your specific application.  Supplemental equipment is also available such as resistors, dynamic braking modules, and air-conditioning units to mitigate against high heat exposure.  Below is an example of many of the product lines we carry:
Magnetek

IMPULSE®•G+ Series 4
IMPULSE®•VG+ Series 4
IMPULSE®•G+ Mini
Sway Control System (SCS®) Series 2
Drive Synchronization Software
Bucket Control Software
Footbrake/Static Stepless Simulation Software

Yaskawa
Vacon
Allen-Bradley
Drive Support Tools
DataLogger Series 3+ Drive Recording Device
IMPULSE®•Link 4.1 Wireless Diagnostics System
IMPULSE®•Link 4.1 Basic
MAC•2000 Soft Starts
AC Control Panels
Pre-Engineered Control Panels
Custom AC Control Panels
Dynamic Braking
Dynamic Braking Resistors & Units
IMPULSE®•R
IMPULSE®•D+
IMPULSE®•D+ HHP
DC Drives
Kor-Pak specializes in retrofitting older DC cranes and outfitting them with new technology with the objective of making them safe, efficient, and reliable.  DC Drives can provide an ideal alternative to older and sometimes obsolete DCCP systems.  DC Drives allow complete motor control and eliminate wear and excess energy consumption which results in cost savings and less downtime
OmniPulse™ DDC Digital DC Drive
OmniPulse™ DSD DC Control
We invite you to look at the DDC. Presentation for End-users to obtain a better understanding of the concepts behind the DDC Drive as well as the features and benefits that make them superior to DCCP (Direct Current Constant Potential) systems.  If you are interested in pursuing DDC technology for your application, please contact  a Kor-Pak representative and the Omnipulse DDC Application Questionnaire will help you get started in gathering preliminary information.
Magnet Controllers
MagnePulse is built upon the acclaimed OmniPulse™ DDC  framework and has proven to dramatically improve safety, operational efficiency, and performance of DC Industrial Lifting Magnets.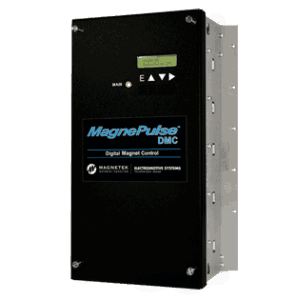 Magnetek MagnePulse™ Digital Magnet Control
Drive Support Tools
Custom DC Control Panels
Related Information:
Theory- Adjustable Frequency Drives for Overhead Material Handling Applications
Features and Benefits of Impulse Drives
Showing all 4 results