Description
Kor-Pak offers the innovative MagnePulse DMC Digital Magnet controller, manufactured by Magnetek Material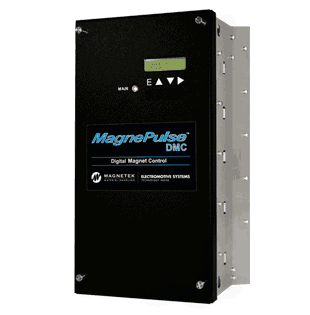 Handling in Menomonee Falls, WI.   The MagnePulse controller will enhance safety, reliability, and efficiency at your facility.
 Advanced Performance
Digital control of the magnet's demagnetizing current means the magnet cleans the load faster and more consistently, increasing throughput 

Exclusive OmniBeam™ feature allows the operator to enable any combination of up to four unique magnets to precisely match individual load requirements 

Stepped current allows you to program the drive to lift/clean a single slab or a stack of slabs, reducing cycles and improving throughput 

Power loss ride-through continues to energize the magnet to keep the control running and current flowing through the magnet when main power is lost
Improved Safety and Protection 
MagnePulse DMC automatically removes magnet power during a fault event, preventing damage to the drive and magnet 

Open/short circuit detection automatically disables current to the magnet if a cable is cut, avoiding control and magnet damage while improving plant safety 

Over-temperature protection utilizes the magnet's resistance to determine its temperature, preventing magnet damage and increasing life expectancy 

Digitally control the rate of current change to prevent voltage spikes or minimize drop time 

Password protection stops unauthorized users from changing the control characteristics
Increased Production and Efficiency 
Reduced lifting current maintains a full load while saving energy, lengthening magnet life, and increasing average lift capacity 

Efficient use of energy reduces magnet heating up to 50%, reducing or eliminating the need for magnet change-outs 

Flexible control options include single-input, dual-input, stepped-input, analog or serial current references as well as a programmable input to maximize magnet and crane performance 

Twenty-five drive, magnet and control status monitors check magnet current, voltage, resistance, temperature, DC bus voltage, and control variables to simplify process optimization
Flexible Options 
MagnePulse DMC can be easily retrofitted into your current framework, using existing operator controls and connections. Magnetek can also provide a pre-engineered panel with all the components needed to provide complete magnet control. Panel accessory options include E-stop, fan kits, and circuit breakers. MagnePulse DMC may also be added to a custom panel, designed and built to your exact specifications.
Related Literature