Description
Kor-Pak provides a complete line of OEM and Aftermarket EC&M DC Crane Controls.  In addition to our new product selection, we also offer a variety of surplus equipment and rebuild services that can provide a substantial costs savings without compromising quality
Youngstown Limit Switches
The Youngstown Power Limit Switches limit crane hoist over-travel in the hoisting direction. They are operated by the crane hoist hook block and directly interrupts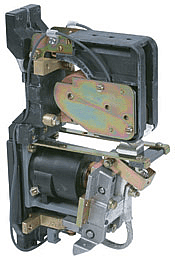 the hoist motor current.
EC&M DC Contactors
Rugged mill-duty DC contactors.  Kor-Pak offers a complete line including replacement parts and rebuild services.
EC&M Lifting Magnet Controllers
These Magnet Controllers provide efficient, reliable control of highly inductive current and quick, clean load release, for any manufacturer's full-voltage lifting magnet.
EC&M Panels
Kor-Pak provides new, aftermarket, and surplus rebuilt EC&M Control Panels.
EC&M Replacement Parts and Modification Kits
Replacement parts kits are available for magnet controllers and AC and DC Type M and MX contactors. Copper contact tips are used in standard applications. Silver-faced contact tips are recommended for applications where the contactors remain closed for long periods of time. Silver-faced contact tips are supplied as standard on crane main disconnect switches and are optional on DC starters and other devices. Each tip kit contains movable and stationary contacts, necessary hardware and servicing instructions.
DC operating coils are designed in accordance with NEMA standards to withstand 110 percent of rated voltage continuously and to operate the contactor successfully at 80 percent of rated voltage.
EC&M/Square D DC Magnetic Drum Brakes
Kor-Pak provides OEM and Aftermarket DC Magnetic Drum brake assemblies which have been successfully used for EOT Crane applications for many years.  EC&M/Square D Brakes are Spring-Set and Magnetically Released (fail safe) and apply in the event of a power loss.  EC&M/Square D Brakes are made to AIST standards, 8″ through 30″ drum diameter and provide varying torque ranges.
Kor-Pak provides new and aftermarket EC&M/Square D Brake Assemblies, as well we spare parts and accessories such as wheels, coils, couplings, and shoes.  Additionally, Kor-Pak can reline Square D brake shoes, recondition Square D brakes, and provide surplus/rebuilt brakes assembiles as well.
Related EC&M Crane Controls Literature
Square D Crane Controls Brochure
6815 Lifting Magnet Controllers
Class 5010 WB DC Magnetic Drum Brakes
13″ 5060 Adjustable Torque Brake
16″ 5060 Adjustable Torque Brake
Line ArcType Contactors Product Sheet