Johnson Brakes
About KJohnson/Elevanja
For over two decades, Kor-Pak Corporation has been a dealer/distributor for ohnson/Elevanja Industrial Braking Systems.  Johnson Industries Ltd. was founded in 1966 in Richmond, B.C., and in 1993 acquired the British brake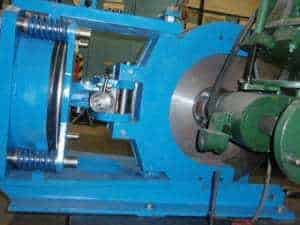 manufacturer Elevanja.    Johnson Industries' strategic acquisitions, ingenuity, superior engineering, and entrepreneurial spirit has enabled it to become a premier brake manufacturer with a dominant global presence.  In 2015, Elevanja will be celebrating it's 100th anniversary and Johnson Industries offers by far the most diversified and innovative brake portfolio in the marketplace.  In the early 1990's, Kor-Pak founder Jim Koralik introduced Johnson electric brakes to the United States Steel Industry as the Johnson Thruster Style brakes, magnetic disc brakes, and emergency caliper brakes have become popular in EOT crane applications.  Today, Kor-Pak possesses the knowledge assets and product knowledge to represent Johnson Industries Brakes in a variety of markets such as steel, mining, oil/petroleum, logging, and marine.  We service clients around the world and offer 24/7 support to help our clients keep their equipment running at optimal efficiency.  Contact a Kor-Pak representative to learn more about Johnson Industries brakes and allow us to serve your industrial braking system needs.
Johnson Industries Disc Calipers and Drum Brakes
Johnson designs and manufactures a range of products in house including hydraulic, pneumatic, spring-set or manually applied caliper disc brakes and brake systems for use on hoists, conveyors, propulsion systems and other rotating equipment.   Johnson also produces electro-magnetic and electro-hydraulic thruster drum and disc brakes which are in service around the world on cranes, hoists and other material handling and power transmission equipment.
Johnson Industries Storm and Parking Brakes
Johnson also designs and manufacture Storm and Parking brakes.   Storm brake systems include automatic and manual rail clamps, rail brakes and wheel clamps.  These emergency braking systems are used on cranes, stacker-reclaimers, loaders and other forms rail mounted equipment.  
Johnson Industries Custom Brakes and Engineering
Kor-Pak can provide you with custom engineered industrial braking systems designed specifically for your unique application.  This may include assisting with the brake selection process and performing a site visit and interactive project management to design and implement the optimal and most efficient system available.
Showing 1–10 of 19 results