Festoon Systems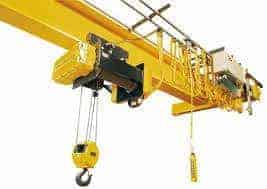 Kor-Pak provides a complete  selection of  Festoon Systems to stabilize, protect, and facilitate power/data cables or air/fluid hoses.  Our Cable Festoon Systems are capable of weathering harsh environments such as steel plants and and ports.  Furthermore, Kor-Pak's Cable Festoon Systems are particularly well-suited  for overhead cranes, container cranes, gantry cranes, water treatment systems, bulk material conveyors, plating lines, and numerous other applications.
Kor-Pak's Product Cable Festoon product line includes:
C-Track Festoon
Heavy-Duty Aluminum Festoon
Heavy-Duty I-Beam Festoon
Marine Terminal I-Beam Festoon
Mill Duty I-Beam Festoon
Plug & Play Festoon Hardware
Magnetek Festoons
Aero-Motive Festoons
Gleason Festoons
Features of Our Festoons Systems Include:
WEAR GROOVES allow quick visual inspection of main wheels to determine if replacement is necessary
Optional STAINLESS STEEL threaded fasteners and
axles provide outstanding
corrosion resistance
WELDED STEEL TROLLEY BODY AND SADDLE
Extra strength. Continuous welds and rounded edges protect cables from undue wear and abrasion.
HEAVY DUTY FORGED SHACKLES for connection of tow ropes or chains. Tow ropes minimize stress on cables/ hoses
CROWNED or FLANGED MAIN TROLLEY WHEELS.
Available in steel or nylon.
HEAVY DUTY BUMPERS, each end of trolley. Absorb forces when trolleys impact during normal operation.
Adjustable bumpers also available for retrofit projects to align bumpers with existing bumpers.
SHOCK CORDS: 5/8″ dia. Get trolleys moving  more smoothly during rapid acceleration. Provide festoon system that operates smoothly with minimum stress on tow ropes and cables/ hoses.
Related Information:
C-Track Cable Festoon Brochure
Container Crane Festoon Systems
I-Beam Festoon Systems for Rubber Tired and Rail Mounted Gantry Cranes
Showing all 2 results