Description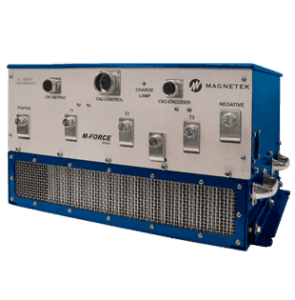 AC Traction Drive for Mining Applications: Kor-Pak Motion Control Experts
The M-FORCE SD500 Severe Duty AC Traction Drive is part of our proven line of state-of-the-art industrial controllers.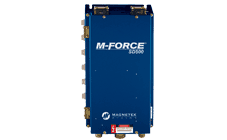 The system can be connected to induction AC motors for high system efficiency at a wide range of motor speeds. The DC input, AC output drive can be used in a variety of applications including battery-operated mobile vehicles, conveyors, crushers, drills, and locomotives.
Controlled start-up torque decreases the wear and tear on the motor and connected load, which reduces mechanical breakdown to extend motor life.
Controller
The rugged controller monitors and controls the system's M-FORCE SD500 drives providing operation and fault reporting. It provides full-time monitoring of motor drive temperature, battery health status, system faults, run time, and a host of other features.
Features
CAN-Bus Communication
Wireless RF capability
Analog/digital inputs from gas pedal, joystick, temperature transducers and other switching devices
Inputs from PLC and other controllers
Multi-language display
---
Display
The display in an MSHA-approved housing provides real-time performance monitoring of the control system through the controller. External controls allow for system programming and re-configuration, data reporting, and troubleshooting within a permissible area.
---
Custom Engineered Systems
Kor-Pak can provide custom-designed engineered power solutions for applications such as transportation, mining, marine or locomotive applications using our M-FORCE SD500 Variable Frequency Drives. Magnetek can also provide custom monitoring, data collection and display systems integrated with any Magnetek M-FORCE® severe duty drive to provide the ultimate in assured performance and control. Our flexible building block approach allows us to configure a custom display and controller to your exact requirements. The control interface provides real-time diagnostics for preventative maintenance and troubleshooting, reducing down time and repairs.