Description
Draglines, power shovels and conveyors are just a few examples of machinery that require high-cyclic or high-inertia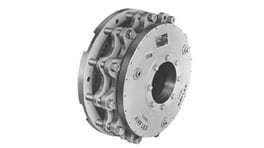 stops—exactly where Eaton Airflex DBA disc-style brakes excel. Featuring large friction areas to absorb and dissipate energy, Eaton Airflex DBA brakes are available as spring-applied and air- or hydraulically-released, with either solid or ventilated discs to match the speed of the application.
Features
Low inertia friction disc assembly
Reduces the overall inertia that must be stopped.
Optional split friction discs
Allows removal of friction discs without disturbing other
components of drive system in mid-shaft brake arrangement.
Low wearing, self lubricating PolyPak® seals
Eliminates premature twisting failure and requires no external
lubrication.
Applications
• Bottling Equipment
• Power Shovels
• Draglines
• Conveyors
• Shears
• Power Presses
Literature: