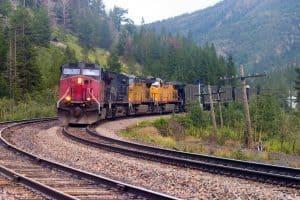 Manufacturers and suppliers have been hard at work over the past year making improvements to friction materials, methods, and management for rail parts.
Improvements have been made to greases and lubrication systems for railroads, and a number of solutions and equipment have become available for providing the best management of wear and tear on the rails.
If you're interested in learning how to manage railroad friction properly, keep reading for all you need to know about the right friction materials to use!
How to Manage Railroad Friction Materials the Right Way: The 5 Products You Should Be Using
1. Elecsys RFM-100
In 2013, one of the leading providers of machine-to-machine technology solutions and electronics for industrial applications, Elecsys, introduced its RFM-100 remote monitoring system. This monitoring system is one of the friction materials used for top-of-rail (TOR) and gauge-face lubrications.
The RFM-100 works by continually monitoring the following:
Tank levels
Pump status
Material disbursement
Wheel/axle count
Power availability
Data from the system is accessed by those who are authorized and allows the operator to respond quickly to equipment failures. This, in turn, should increase maintenance efficiency.
2. Interflon Lubrication
Interflon offers a joint/splice bar lubrication product that contains MicPol.
MicPol is a treated form of Teflon. The durable film of MicPol lowers friction, protects against corrosion, dirt, and dust.
The product cleans, creeps, lubricates, and protects and allows for a reduction of product quantities used by up to 90 percent, according to Interflon.
This impressive product offers cost benefits, environmental benefits, and stops lubricants from deteriorating composite pads under the rail.
3. Loram Systems
Loram notes that the right friction management practices allow railroads to improve the stress state of their infrastructure.
Friction materials reduce stress on the railroad infrastructure by controlling track forces and friction.
Loram's systems work using customizable controllers and the dual positive displacement pumps. This ensures that the correct amount of friction modifier is applied to each rail.
The system also has flexibility. This allows a customer to adapt the same system to ever-changing friction modification, based on specific site demands.
Railmark Bio-Based Rail Lubricants
Railmark Track Works Inc. offers its own branded line of bio-based rail lubricants.
Not only is this one of proper the friction materials you should be using, but it's cheaper now too!
These new lubricants have a new manufacturing and distribution arrangement that is now able to offer customers a 25 to 33 percent discount on the company's previous products.
The bio-based rail lubricant meets the EPA's Environmental Preferable Purchasing criteria and is a USDA BioPreferred product.
SKF/Lincoln Lubrication Systems Solar Panel Kit
Because the majority of lubricators utilize solar panels for power, SKF Lincoln introduced a new solar panel kit designed for durability and security.
The SKF Lincoln solar panel kit was developed to protect the panels from weather damage and vandalism.
SKF Lincoln makes it easy to use too. The kit includes everything required for quick mounting on either the reservoir or at a remote location.
What do you know about friction materials? Tell us in the comments which awesome products we may have missed!