Micarta and Phenolic Laminates
Kor-Pak is a Phenolic specialist, carrying various grades of  phenolic materials to accommodate numerous applications.  Common brand names that we carry include:

Micarta
Ryertex 
Gatke
Canvas Phenolic
What are Phenolics, and what are their applications?
Micarta became a brand name when it was developed by George Westinghouse in the early 1900's using phenolic resins.  Micarta is now used as the general brand name term for resin impregnated fibre compounds.  This material is made from phenolic resins used to impregnate paper and cotton fabric which are cured under pressure and high temperatures to produce laminates.
Micarta industrial laminates are typically phenolic, epoxy, silicon-based thermoset materials reinforced with fiberglass, cotton, cloth, paper, carbon fiber, moly, teflon, and others.  Pressure and heat is applied to layers of laminations which yields a chemical reaction (polymerization) which turns the layers into high-pressure thermosetting industrial laminated plastic.  There are numerous commercial grades which industrial laminates are manufactured in.
Where are Micarta/Phenolic Laminates used?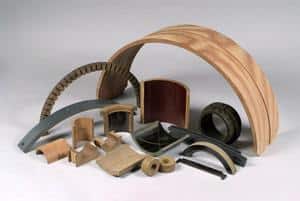 The most popular application for Micarta/Phenolic Laminates is in high strength electrical insulation.  Micarta/Phenolic Laminates are used in power generating and distribution equipment, aerospace, electronic, marine, heavy equipment, steel, paper, and various other industries/applications.
Terminal Boards
Casings
Antenna Insulators
Printed Circuit Boards
Stand Offs • Washers
Spacers
PC Board Insulator
Switch Gears
FR4 PCB
Board
Sheets
Plates
Rods

Phenolic
G10 Tubing
G10 Plastics
G10 Composites
PCB Materials
Black G10
Machining
Fiberglass
Panels
Nema Grade
Circuit Board Material
Copper Clad
Industrial Tubes
Kor-Pak Corporation provides several grades of Micarta/Phenolic Laminates and can perform machining, grinding, shearing, sanding, and sawing services to furnish you with the exact product you need.  Sheets of material are also available in different grades and dimensions.  Please contact a Kor-Pak representative for more information and price/availability.  Kor-Pak Phenolic Laminate products typically ship from stock and custom orders will have short lead times.
We offer:
Rods
1/32″ to 6″ diameter lengths up to 6″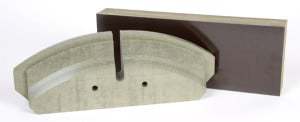 Sheets
.004″ through 6″ thick sizes up to 48″ X 96″
Tubes 
Custom made to your desired specifications
Machining
Precision machining available to accommodate challenging tolerances and requirements
Related Materials
Showing all 8 results
Gatke and Ryertex Bearings

Gatke and Ryertex Bearings

Kor-Pak supplies bearings, bushings and gears made from a wide range of non-metallic, industrial materials. Our CNC machining and lathe turning capabilities allow us to make parts from ½" to 50″ diameters for nearly any industrial application.