Marland Clutch

Kor-Pak is an authorized dealer for Marland Clutch
Marland Clutch is a world leader in the design and manufacturing of backstopping and overrunning clutches by providing quality robust designs since 1931.  Marland offers a wide range of clutches with over 100 different catalog standard models, accommodating shaft sizes up to 600 mm (23.5 in.). Marland's quality management system is certified to ISO 9001:2008.  Marland has optimized Ramp and Roller technology to produce the most robust backstop and overrunning clutch designs.
Marland Backstopping Clutches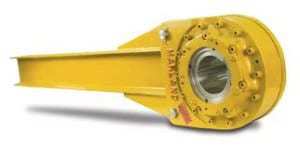 Marland low speed backstops are mounted on conveyor headshafts to automatically prevent any reverse rotation of
CEBMAG Backstop the headshaft or movement of the conveyor during a scheduled or un-scheduled stoppage under load.   Marland high speed backstops include inner race centrifugal throughout sprag designs and fully releasable models, low speed backstops see catalog P-1469.
17 low speed models
43 high speed models
Bore sizes up to 600 mm, (23.5 in.)
Torque Ratings up to 1626000 Nm, (1,200,000)
4 Load Sharing Designs
Marland CECONs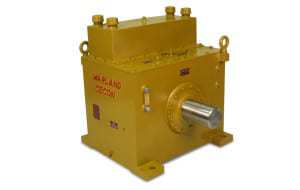 The Marland CECON family of clutches has become the industry standard for proven performance by exceeding the requirements at many global industries.  The Marland CECON provides an overrunning function in a protected housing for meeting the industry demands for uninterrupted continuous dual drive applications even in extremely wet, dusty, abrasive or other adverse environments with optional complete disconnect capability, and high speed continuous operation capability, see catalog P-1471.
37 CECON models
Full Disconnect Designs, OSHA
High Speed Designs up to 12,000 RPM
Marland CEBMAGs
The Marland CEBMAG family of clutches provide protection from damage to Kilns and Kilns drives as part of an emergency drive, when the facility experiences unplanned power outages or unscheduled shut downs, see catalog P-1470.
4 CEBMAG models
Spring Applied Holding Brakes
Centrifugal Brake for speed control
Automatic auction
Marland HB Clutches: Full-Phased Cam and Rollers
Uniform Load Distribution is assured by full-phase true cylindrical rollers enclosed in a cage to act in unison on flat cam surfaces. The cage forces all the rollers to engage simultaneously, accurately maintaining their relative positions, thereby assuring that each roller will carry an equal share of the load.
Other designs utilize individual springs acting on each roller. This allows different energizing forces to cause one or more of the rollers to engage in the load carrying position prematurely, or to skew. This action will concentrate the full clutch load on one or just a few rollers causing destruction and failure of the rollers and clutch.
No Loose Parts
Rollers are contained in a spring-actuated cage. The parts will not spill or drop if field disassembly should be required.
No Backlash
When the string is lowered and the drum shaft rotates the outer race of the clutch, the spring-actuated roller cage uniformly and instantaneously moves all of the rollers into the driving position.
Long Service Life
Superior Roller Design
Related Literature:
Marland Backstops Brochure
Marland One-Way CEBMAG Backstops
Marland HB Clutches
Marland Clutch Product Line Card
Marland Clutch Product Flyer
Showing all 3 results