Description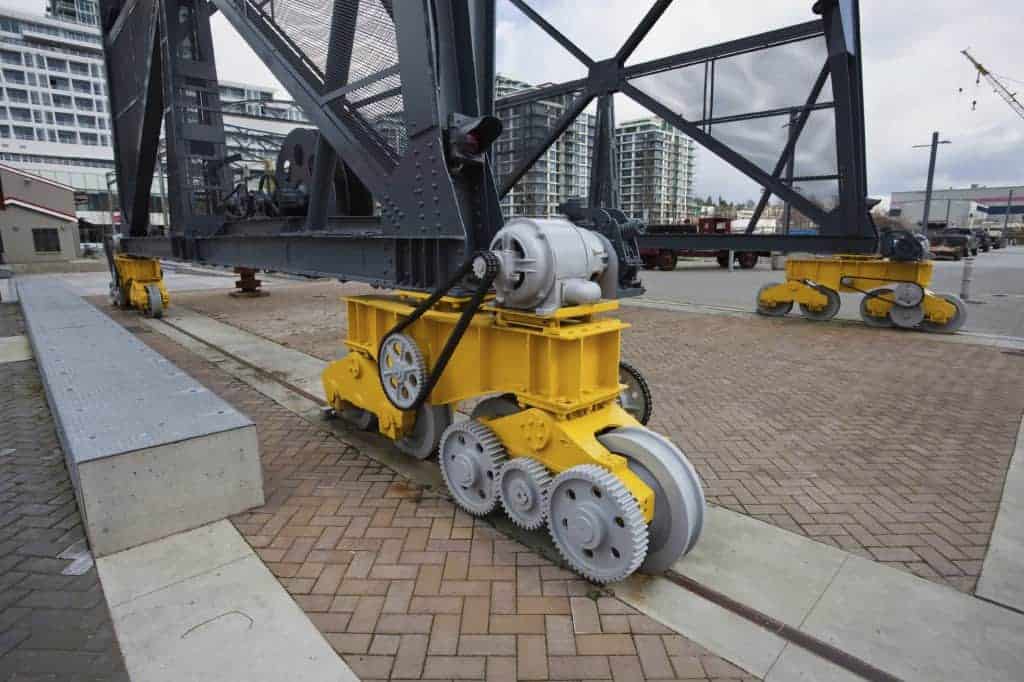 Kor-Pak is Your Preferred Crane Wheels Supplier
Kor-Pak Corporation is a supplier of high-integrity hardened steel crane wheels which are heat treated and manufactured to withstand harsh industrial environments.
Advantages of Kor-Pak Crane Wheels:
Prescription wheels can be designed
Short lead times
Resistant to Flange Fracture or Wear
Increased uptime of wheels equates to fewer maintenance costs and elongates the life of the rail
State-of-the-art and experienced machining capabilities insure quality and precision for your wheels\
Available in diameters of 6″ to 36″ and up, we also design and manufacture custom wheels for your specific design application in any configuration. And our sales engineers are always ready to make recommendations when these wheels need to be integrated into complete wheel assemblies on time and when you need it.
Our large inventory of carbon and alloy steel materials, coupled with our in-house rough and finish machining capabilities (up to 40″ in diameter), makes rush delivery and breakdown situations our specialty.  Kor-Pak is dedicated to keeping your business moving and getting you back on-line because lost time is lost money.
If you don't have a written specification or drawing, Irwin has the ability to reverse engineer your part and produce it to original specifications to get you back on-line quickly and cost effectively.
Reconditioned Crane & Heavy Wheel Assemblies
In addition to our new crane and custom heavy-duty industrial wheels and wheel assemblies, Kor-Pak is also able to repair and recondition your existing wheel & axle sets.
Whether your assemblies require new axles, bearings, bearing housings or a complete overhaul, Kor-Pak can get you back into production ASAP, often at a cost far less than buying new wheel assemblies, and they will be shipped back to you fully assembled, painted, lubricated and ready to install.
Kor-Pak Equipment Standard Crane Wheel Cross Reference Chart
| Standard Wheel Section Number | Kor-Pak Wheel Interchange Number | Wheel or Tread Dia. | Flange Dia. | Rim Width Wheel (lbs) | Tread Width | Hub Length | Hub Diameter | Nominal Weight of Finished |
| --- | --- | --- | --- | --- | --- | --- | --- | --- |
| WCL-121 | KPEW-121 | 12″ | 14″ | 4″ | 2-1/4″ | 5″ | 6″ | 130 |
| WCL-122 | KPEW-122 | 12″ | 14″ | 4-1/2″ | 2-1/2″ | 5-1/2″ | 6″ | 150 |
| WCL-123 | KPEW-123 | 12″ | 14″ | 5″ | 3″ | 6″ | 7″ | 175 |
| WCL-151 | KPEW-151 | 15″ | 17″ | 4″ | 2-1/4″ | 5″ | 8″ | 205 |
| WCL-152 | KPEW-152 | 15″ | 17″ | 4-1/2″ | 2-1/2″ | 5-1/2″ | 8″ | 230 |
| WCL-153 | KPEW-153 | 15″ | 17″ | 5″ | 3″ | 6″ | 8″ | 250 |
| WC-151 | KPECW-151 | 15″ | 17″ | 5-1/2″ | 3-1/4″ | 6″ | 9-1/2″ | 285 |
| WCL-181 | KPEW-181 | 18″ | 20″ | 4-1/2″ | 2-1/2″ | 5-1/2″ | 9″ | 310 |
| WCL-182 | KPEW-182 | 18″ | 20″ | 5″ | 3″ | 6″ | 9″ | 345 |
| WC-181 | KPECW-181 | 18″ | 20″ | 5-1/2″ | 3-1/4″ | 6″ | 10-1/2″ | 385 |
| WC-182 | KPECW-182 | 18″ | 20″ | 6-1/2″ | 4″ | 7″ | 10-1/2″ | 460 |
| WCL-211 | KPEW-211 | 21″ | 23″ | 5″ | 3″ | 6″ | 10″ | 440 |
| WC-211 | KPECW-211 | 21″ | 23″ | 5-1/2″ | 3-1/4″ | 6″ | 11″ | 455 |
| WC-212 | KPECW-212 | 21″ | 23″ | 6-1/2″ | 4″ | 7″ | 11″ | 560 |
| WC-213 | KPECW-213 | 21″ | 23″ | 7-1/2″ | 4-7/8″ | 8″ | 12″ | 665 |
| WCL-241 | KPEW-241 | 24″ | 26″ | 5″ | 3″ | 6″ | 10″ | 560 |
| WC-241 | KPECW-241 | 24″ | 26″ | 5-1/2″ | 3-1/4″ | 6″ | 11-1/2″ | 575 |
| WC-242 | KPECW-242 | 24″ | 26″ | 6-1/2″ | 4″ | 7″ | 11-1/2″ | 705 |
| WC-243 | KPECW-243 | 24″ | 26″ | 7-1/2″ | 4-7/8″ | 8″ | 13-1/2″ | 845 |
| WC-244 | KPECW-244 | 24″ | 26″ | 8″ | 5-1/2″ | 8-1/2″ | 15″ | 1020 |
| WC-271 | KPECW-271 | 27″ | 29″ | 5-1/2″ | 3-1/4″ | 6″ | 11-1/2″ | 695 |
| WC-272 | KPECW-272 | 27″ | 29″ | 6-1/2″ | 4″ | 7″ | 13-1/2″ | 860 |
| WC-273 | KPECW-273 | 27″ | 29″ | 7-1/2″ | 4-7/8″ | 8″ | 13-1/2″ | 1020 |
| WC-274 | KPECW-274 | 27″ | 29″ | 8″ | 5-1/2″ | 8-1/2 | 15″ | 1155 |
| WC-301 | KPECW-301 | 30″ | 32″ | 6-1/2″ | 4″ | 7″ | 13-1/2″ | 1005 |
| WC-302 | KPECW-302 | 30″ | 32″ | 7-1/2″ | 4-7/8″ | 8″ | 13-1/2″ | 1200 |
| WC-303 | KPECW-303 | 30″ | 32″ | 8″ | 5-1/2″ | 8-1/2″ | 15″ | 1345 |
| WC-361 | KPECW-361 | 36″ | 38″ | 6-1/2″ | 4″ | 7″ | 13-1/2″ | 1470 |
| WC-362 | KPECW-362 | 36″ | 38″ | 7-1/2″ | 4-7/8″ | 8″ | 13-1/2″ | 1685 |
| WC-363 | KPECW-363 | 36″ | 38″ | 8″ | 5-1/2″ | 8-1/2″ | 15″ | 1910 |
Material Grades and Wheel Hardness
| Standard Irwin Crane Wheel Material | RESULTING HARDNESS RANGES |
| --- | --- |
| AISI C-1045/C-1050 | 320-400 Bhn, 43-47 Rc |
| AISI C-1055/C-1060 | 320-400 Bhn, 43-47 Rc, 50-55 Rc, 58-62 Rc |
| AISI C-1070, 4140, 4340 | 320-400 Bhn, 43-47 Rc and as required |
Contact Us today for more information about our high-quality crane wheels