Description
Kor-Pak Corporation is your industrial supplier of hardened steel crane wheels. To stand up to the harsh realities of operating in industrial conditions, our crane wheels are heat treated for extra hard steel .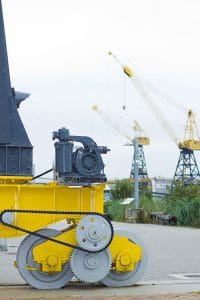 Advantages of Kor-Pak Crane Wheels:
Fast Turn Around Times
Flange Wear, Fracture and Pitting resistant
State-of-the-art machining for greater quality and precision
Kor-Pak Crane Wheels are available form diameters of 6″ to 36″. We can custom manufacture your crane wheels, accommodating even larger sizes or unique specs. Contact our sales engineers to go over your requirements.
Rush or emergency orders are no problem. With a large inventory ready to ship, and finished machining capabilities, we can get your business back up and be running.
If you are not sure of your specs, Kor-Pak has the resources available to reverse engineer your part and produce a replacement to meet OEM specifications.
Reconditioned Crane & Heavy Wheel Assemblies
In addition to our new crane and custom heavy-duty industrial wheels and wheel assemblies, Kor-Pak is also able to repair and recondition your existing wheel & axle sets.
Whether your assemblies require new axles, bearings, bearing housings or a complete overhaul, Kor-Pak can get you back into production ASAP, often at a cost far less than buying new wheel assemblies, and they will be shipped back to you fully assembled, painted, lubricated and ready to install.
Kor-Pak Equipment Standard Crane Wheel Cross Reference Chart
| Standard Wheel Section Number | Kor-Pak Wheel Interchange Number | Wheel or Tread Dia. | Flange Dia. | Rim Width Wheel (lbs) | Tread Width | Hub Length | Hub Diameter | Nominal Weight of Finished |
| --- | --- | --- | --- | --- | --- | --- | --- | --- |
| WCL-121 | KPEW-121 | 12″ | 14″ | 4″ | 2-1/4″ | 5″ | 6″ | 130 |
| WCL-122 | KPEW-122 | 12″ | 14″ | 4-1/2″ | 2-1/2″ | 5-1/2″ | 6″ | 150 |
| WCL-123 | KPEW-123 | 12″ | 14″ | 5″ | 3″ | 6″ | 7″ | 175 |
| WCL-151 | KPEW-151 | 15″ | 17″ | 4″ | 2-1/4″ | 5″ | 8″ | 205 |
| WCL-152 | KPEW-152 | 15″ | 17″ | 4-1/2″ | 2-1/2″ | 5-1/2″ | 8″ | 230 |
| WCL-153 | KPEW-153 | 15″ | 17″ | 5″ | 3″ | 6″ | 8″ | 250 |
| WC-151 | KPECW-151 | 15″ | 17″ | 5-1/2″ | 3-1/4″ | 6″ | 9-1/2″ | 285 |
| WCL-181 | KPEW-181 | 18″ | 20″ | 4-1/2″ | 2-1/2″ | 5-1/2″ | 9″ | 310 |
| WCL-182 | KPEW-182 | 18″ | 20″ | 5″ | 3″ | 6″ | 9″ | 345 |
| WC-181 | KPECW-181 | 18″ | 20″ | 5-1/2″ | 3-1/4″ | 6″ | 10-1/2″ | 385 |
| WC-182 | KPECW-182 | 18″ | 20″ | 6-1/2″ | 4″ | 7″ | 10-1/2″ | 460 |
| WCL-211 | KPEW-211 | 21″ | 23″ | 5″ | 3″ | 6″ | 10″ | 440 |
| WC-211 | KPECW-211 | 21″ | 23″ | 5-1/2″ | 3-1/4″ | 6″ | 11″ | 455 |
| WC-212 | KPECW-212 | 21″ | 23″ | 6-1/2″ | 4″ | 7″ | 11″ | 560 |
| WC-213 | KPECW-213 | 21″ | 23″ | 7-1/2″ | 4-7/8″ | 8″ | 12″ | 665 |
| WCL-241 | KPEW-241 | 24″ | 26″ | 5″ | 3″ | 6″ | 10″ | 560 |
| WC-241 | KPECW-241 | 24″ | 26″ | 5-1/2″ | 3-1/4″ | 6″ | 11-1/2″ | 575 |
| WC-242 | KPECW-242 | 24″ | 26″ | 6-1/2″ | 4″ | 7″ | 11-1/2″ | 705 |
| WC-243 | KPECW-243 | 24″ | 26″ | 7-1/2″ | 4-7/8″ | 8″ | 13-1/2″ | 845 |
| WC-244 | KPECW-244 | 24″ | 26″ | 8″ | 5-1/2″ | 8-1/2″ | 15″ | 1020 |
| WC-271 | KPECW-271 | 27″ | 29″ | 5-1/2″ | 3-1/4″ | 6″ | 11-1/2″ | 695 |
| WC-272 | KPECW-272 | 27″ | 29″ | 6-1/2″ | 4″ | 7″ | 13-1/2″ | 860 |
| WC-273 | KPECW-273 | 27″ | 29″ | 7-1/2″ | 4-7/8″ | 8″ | 13-1/2″ | 1020 |
| WC-274 | KPECW-274 | 27″ | 29″ | 8″ | 5-1/2″ | 8-1/2 | 15″ | 1155 |
| WC-301 | KPECW-301 | 30″ | 32″ | 6-1/2″ | 4″ | 7″ | 13-1/2″ | 1005 |
| WC-302 | KPECW-302 | 30″ | 32″ | 7-1/2″ | 4-7/8″ | 8″ | 13-1/2″ | 1200 |
| WC-303 | KPECW-303 | 30″ | 32″ | 8″ | 5-1/2″ | 8-1/2″ | 15″ | 1345 |
| WC-361 | KPECW-361 | 36″ | 38″ | 6-1/2″ | 4″ | 7″ | 13-1/2″ | 1470 |
| WC-362 | KPECW-362 | 36″ | 38″ | 7-1/2″ | 4-7/8″ | 8″ | 13-1/2″ | 1685 |
| WC-363 | KPECW-363 | 36″ | 38″ | 8″ | 5-1/2″ | 8-1/2″ | 15″ | 1910 |
Material Grades and Wheel Hardness
| Standard Irwin Crane Wheel Material | RESULTING HARDNESS RANGES |
| --- | --- |
| AISI C-1045/C-1050 | 320-400 Bhn, 43-47 Rc |
| AISI C-1055/C-1060 | 320-400 Bhn, 43-47 Rc, 50-55 Rc, 58-62 Rc |
| AISI C-1070, 4140, 4340 | 320-400 Bhn, 43-47 Rc and as required |
Contact Us today for more information about our high-quality crane wheels