Storm and Parking Brakes

Storm Brakes
Our innovative and diverse selection of storm and rail brakes have helped industries persevere throughout harsh and demanding environments. Whether it be intense winds, seismic activity, or bracing your container when incurring heavy loads, Kor-Pak's Storm Brakes will enable you to overcome these obstacles and achieve your industry-specific goals.
Rail Clamps
Find more information about oure Rail Head Clamps. Contact us with any questions or to place an order.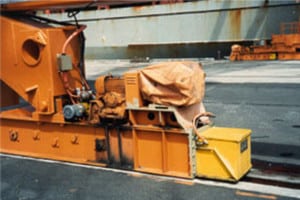 Spring force toggle compensated mechanism
Offered with various mounting options: Truck, Sill-Beam, Flange
Actuation is automatic spring-set, hydraulic pressure released
Applications include ships, cranes, stackers, reclaimers, and trippers
Electro-mechanical rail clamps available (non fail-safe)
Parking Brakes
Direct-acting shoe bearing on top of rail head mechanism
Actuation is spring-set, hydraulic pressure released
Sill-mounted mounting with shims and plated emergency release bolts
Hydraulic power units available to suit all operating requirements
Used on cranes, shiploaders, stackers, reclaimers, and various other industrial applications

Includes Wheel Gripper System
A similar style of Storm Brake, Rail Brakes incorporate a hardened tool steel shoe, which is applied directly to the top of a rail head by spring force. Rail brakes are sill-mounted with shims and plated emergency release bolts. The spring stack can be varied to deliver the required holding force. Lubrication points are provided at the head/shoe mating surfaces. Features and options include a release indicating/interlock limit switch, special alloys, coatings and custom mountings.
Showing 1–10 of 17 results
Wheel Clamps and Brakes (5)

Wheel Clamps and Brakes 

Wheel Clamps and Wheel Brakes are used in many applications to insure the safety of your equipment.  Wheel Clamps

and Brakes can be used on Container Cranes, Rail Cars, Tripper Cars, and Gantry Cranes.

How Wheel Clamps and Wheel Brakes Work:

Wheel Clamps and Brakes act directly on the wheel side flanges of rail mounted equipment.  They can be either spring applied (fail-safe) or pressure applied and they are intended for emergency stopping and holding.  Wheel Clamps and Brakes are similar to caliper brakes and are used for dynamic stopping and holding.  A toggle linkage compensates for lining wear to provide constant braking force.

Wheel Clamps

Hydraulic, Air, or Manual Release Flange or side mounted Ideal for cranes, ship loaders/unloaders, stacker reclaimers, mining

Wheel Grippers

Hydraulic Set and Release interlock with rail car movement Wear adjustments reduce maintenance oversized jaws Memory Circuit maintains pressure during power failure stainless steel pins steel and ductile iron construction 12500 LB [55 kN] to 25000 LB [111 kN] Wheel Holding Force hardened tool steel for long life

Hydraulic Power Unit Systems for Wheel Clamps and Brakes

Kor-Pak can provide turnkey solutions for your Wheel Clamp and Wheel brake system including complete hydraulic systems.   Electric rail grippers are also available.

pic   Related Literature: Hydraulic Wheel Clamps Wheel Gripper Info Wheel Clamp  

Crane Hoist Brakes

Crane Hoist Brakes

Hillmar Rail Clamps

HUAWU Brakes

HUAWU Brakes

Hydraulic Wheel Brakes

Kor-Pak Provides High-Quality and Robust Spring-Applied, Hydraulic Released Wheel Brakes for Ship-to-Shore, Rail Mounted Gantry, and other cranes commonly used in Port Terminal and other applications.

For Technical Specifications, please browse Kor-Pak Wheel Brake Brochure

Johnson Industries Brakes

Johnson Industries RB Series Rail Brake

Johnson Industries STC012 Rail Clamp

Johnson Industries STC012 Spring set and hydraulic released truck mounted rail clamp.

Rail head clamp, shoe acting on each side of the rail
All steel upper housing, ductile iron cylinder head
Lubrication points, provided in levers

Supplemental Equipment: Hydraulic Power Unit

motor mounted, hydraulic power unit
460VAC/3Ph/60Hz Hydraulic Motor (other voltages available)
Capable of operating one or two STC012 rail clamps

Rail Head Brakes

Rail Head Brakes

Railcar Brakes for Mining Applications

Railcar Brakes for Mining Applications

RIMA Brakes

Kor-Pak supplies and services RIMA brakes, a specialist in industrial storm braking systems.  Rima is one of the world's leading manufacturers of hydraulic systems and components with innovative solutions for portal cranes and other industrial applications.
With more than 50 years of success in the global market, is the tangible result of the Rima unrivaled capability for technological innovation.  Rima can meet customer requirements through a widespread local presence and tailored solutions. It also anticipates needs by building strong customer relationships.