Description
Wind Turbine Brake Pads
Kor-Pak is an industrial brake and friction materials expert and Wind Turbine applications are no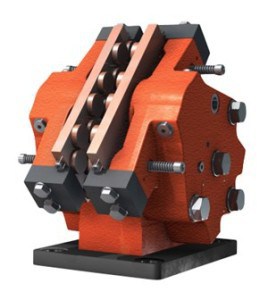 exception.  Kor-Pak provides both OEM and Aftermarket for the following brands:
Svendborg
Twiflex
Brembo
Sime
FTL
Pintsch-Bubenzer
Sibre
Dellner
Many more
Kor-Pak has successfully supplied OEMs, end-users, and distributors with high-quality Wind Turbine
Brake pads using our rigid molded, semi-metallic, and sintered friction materials and we thrive at designing or reverse engineering brake pads for optimal wear life at competitive prices.
Sintered Brake Pads for Wind Turbines
For high-heat applications, Sintered Friction pads are ideal, allowing for greater heat dissipation.  Kor-Pak provides complete Sintered Brake Pad assemblies for all types of Wind Energy Braking applications and will provide you with high-quality products at competitive prices.
Strategic Partnership for Wind Turbine Applications
Kor-Pak will go to any length to meet your needs.  Whether it be arranging a stocking program, performing tests of various materials to insure optimal wear, and collaborating on Research and Development projects, Kor-Pak will endeavor to innovate and provide outstanding customer service.