Description
Emergency Brakes for Cranes: The Proactive Approach to Safety
How Emergency Brakes Work
Emergency Brakes are are used on the low-speed side of the crane and must provide sufficient torque to overcome a low-speed failure such as a gearbox, coupling, or other transmission failure which effectively renders the VFD and high-speed stopping/holding brakes useless from preventing a load from falling.  Therefore, the emergency brakes must be mounted on the drum and will provide the required torque to stop the load from falling.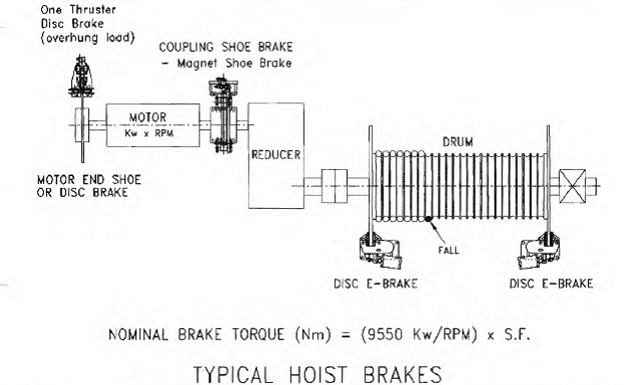 Emergency Hoist Brake Selection Process
To calculate the required torque, you multiply full motor torque X gearbox ratio X service factor.  You may also calculate torque using line pull and number of falls.  Typically, these brakes must possess a great deal of torque and there are multiple disc and drum combinations available to meet the required torque values.  Brake packaging is also largely dependent on available space.  For instance, the disc can be mounted to the flange of the drum, in the middle of the drum, or sometimes the drum is extended to enable the disc to be mounted.  This can be challenging when performing retrofits of existing cranes, but Kor-Pak possesses the skills and experience to successfully package an E- Brake system.
Fail Safe Emergency Disc Brakes for Cranes
Emergency Disc Brakes for Cranes are Spring-Applied and either electric, hydraulic, or air released.   Magnetic Caliper Disc Brakes are ideal because they have fewer moving parts than their alternatives and are also cleaner than hydraulic brake alternatives.  In some instances, magnetic brakes are required in explosion-proof packaging due to industry-specific requirements such as Nuclear applications.
Hydraulic and Air Caliper Disc Brakes provide the highest torque values and are inevitably the brake of choice for extremely high torque requirements.
Contact Kor-Pak Corporation for Your Emergency Braking System Needs
When choosing your emergency braking system, it is vital that you utilize resources that have experience and product-specific knowledge.  Kor-Pak brings many years of experience to the table and will enable you to receive a high-quality and competitive package that puts safety first and also provides the service and after-sales support that you desire.
Emergency Braking System Accessories
In addition to Caliper Disc Brakes, Kor-Pak also provides additional products and services you need
including:
Brake Reconditioning and Friction Reline Services
Actuators
Crane Parts
For more information, please contact a Kor-Pak specialist today at 888-2KorPak or sales@kor-pak.com
Related Literature and Information:
2014 AIST Crane Symposium Presentation that Introduces Emergency Brakes